The movie called 'Gangs of Wasseypur' is love. Be it about cinematic excellence, story portrayal, back-ground music, direction, and nevertheless, acting, everything is in right place in the movie. Both Gangs of Wasseypur 1 and 2 are well beyond 3 hours, and an audience doesn't feel even a moment boring. It's different from regular crime movies for its unique screenplay and some hilarious moments, which burst laughter right from within the stomach. Given below are the top 5 memorable scenes and dialogues from the movie.
Beta tumse na ho payega!!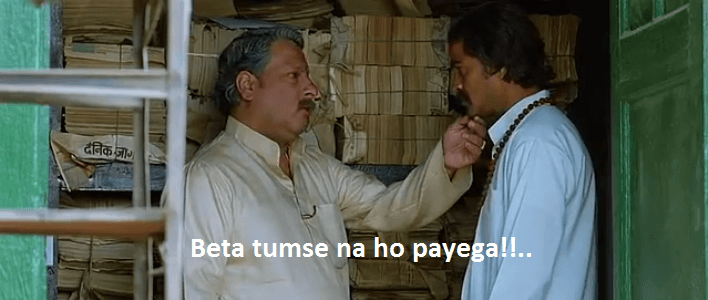 The frustrated father Ranadhir Singh releases hsi frustration on his fickle son in the most hilarious fashion possible. This dialogue has been used many times in political memes.
Tumhe Yaad Kar Kar Ke Hamara Haath Dukh Gaya:
If you are a fan of non-veg jokes, you can save this in your inbox. Just look at the facial expression of Nawazuddin Siddique; he just lives up the character.
Permission Leni Chahiye Thi:
If you can't laugh at this sequence, you are in depression or don't understand Hindi. Just no words needed; simply commendable. This is in first part, in the second part it gets even hilarious when Nawaz asks "permission" to Huma for having sex with her.
Jab Tak Filmein Hai, Log Chutiye bante rahenge!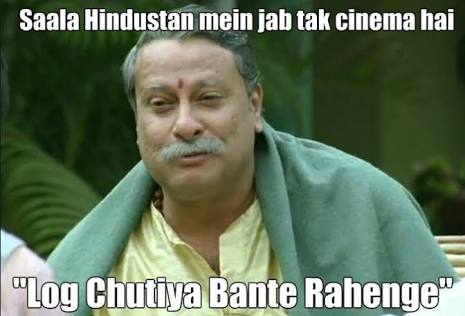 Can't you relate with many of Indians in present scenario. Such typical is this movie, and how well delivered by Tigmanshu Dhulia; incredible!
Itne Goli Marte ki tumhara driver khali Khoka bech ke Ameer banjata:
An angry Manoj Bajpayee threatens to Ranadhir Singh (Tigmanshu Dhulia) in his own badass way, regarding the attack on his son. Had it been delivered by a Khan, or someone else, it would have been a way lot popular.
Hamara Naam Perpendicular Hai, Hum apko lootne aaye hain:
Coolest mobsters, looters, gangsters (whatever you can call) possible on this earth; isn't it? At your ignorance the smile comes up on your face. Can anyone imagine, having gun on the hand, putting on school uniform, one would come to loot your money!
Goli Nahi Marenge- Kehke Lenge Uski: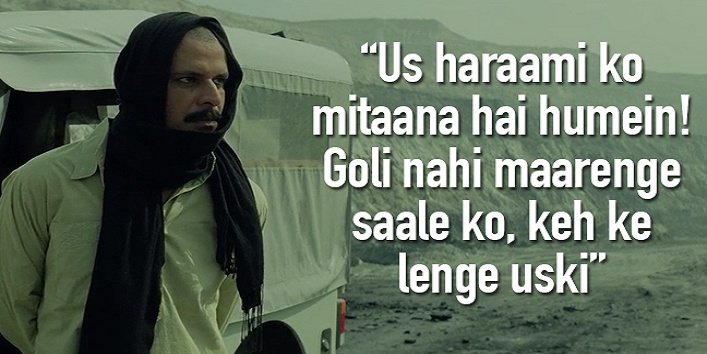 Epic! The most badass bollywood dialogue ever made. It gets even interesting with Manoj Bajpayee's delivery-on the bed with Richa Chadhdha, determining to take revenge on Ranadhir Singh.
Baap Ka Bhai Ka Sabka Badla Lega Re Tera Faizal:
The signature dialogue of Gangs of Wasseypur, which has now become like a tagline for Nawazuddin Siddque, is perhaps the most popular Hindi dialogue in present time.